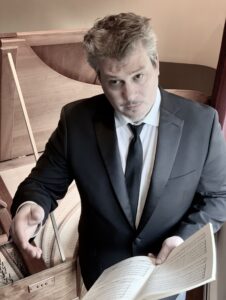 Salisbury UCC is delighted to welcome David Baranowski as our Music Director, beginning June 26th. He succeeds Samuel Lord Kalcheim, who has been our Transitional Music Director for two years and is departing to focus on his passions for composing and teaching.
David Baranowski is a highly versatile conductor and musician, performing with equal virtuosity on piano, keyboard, organ, and harpsichord. He has played and directed numerous chamber and choral concerts in New York and Connecticut, conducted Così fan tutte for Delaware Valley Opera, and musical directed and conducted The Wild Party and Crazy for You for the Musical Theater department at Western Connecticut State University.
Prior to assuming leadership of the music ministry at Salisbury UCC, David was the Director of Music at St. Jude Roman Catholic Church in Monroe, CT. In 2020 he was named Artistic Director of the Hudson Chorale, after serving as Assistant Director and Accompanist for 10 years. Through the worst of the pandemic, he rallied the group to rehearse and perform two concerts using an open-source online audio platform, acting as engineer, editor, and sound mixer, in addition to his musical leadership. He also serves as the Interim Music Director for the Westchester Choral Society, and as a music professor at Western CT State University, teaching music theory, ear training, and piano.
For the past eighteen years, David has been touring internationally with rock icon Ritchie Blackmore, as both keyboardist and singer. He has played over 100 concerts and visited nearly 25 countries as a member of Blackmore's Night, which has been on the charts in Germany, Czech Republic, Russia, England, and the United States.  He has also appeared on German television multiple times, and was featured on the primetime programs Hit Giganten and Fernsehgarten, reaching millions of viewers. He appears on several concert DVDs that have earned Double Gold status in Germany and other European countries.
David has collaborated with Irish pop singer and composer, Julie Feeney, and in the spring of 2012 he played keyboard for Ms. Feeney's 10 performances at the Irish Arts Center in Manhattan, which earned rave reviews in the New York Times. He studied piano with Paul Ostrovsky and Steven Lubin, organ with Robert Fertitta, and voice with Stefano Algieri. He received both his Bachelor and Master of Music degrees from Purchase College Conservatory of Music.
David lives in Danbury with his wife Jennifer and their son Vincent.