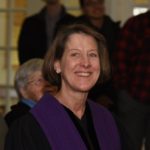 January 29, 2018
"Community and Covenant" ~ Sermon for January 28, 2017
Our New Testament reading this morning is drawn from the gospel of Mark.
Jesus has just started his ministry and is travelling with his newly-called disciples to Capernaum, a town on the northwest shore of the Sea of Galilee, (which is actually a large inland, fresh-water lake where fishermen made a lucrative living).
Jesus encounters a man with an 'unclean spirit.'
Hear now a reading from the gospel of Mark 1:21-28.
Here ends the reading of God's holy word. May God add to our hearing and understanding, God's blessings. Amen.
Please pray with me.
Holy and awesome God, your Son's authority is found in integrity and living truth, not the assertion of power over others.
Open our imaginations to new dimensions of your love, and heal us of all that severs us from you and one another, that we may grow into the vision you unfold before us.
May the words of my mouth and the meditations of my heart be acceptable to you, O Lord, my rock and my redeemer. Amen.
Sermon
I know who you are, the Holy One of God.
This morning's Hebrew Scripture remind us that the people were waiting for the promised prophet, the holy one of God who would save and redeem them.
They lived in a state of expectation, never knowing when God would fulfill the promise to send a prophet.
We live in that same state of hope, waiting for the coming of Jesus Christ, back into our lives.
We never know when God might break into our lives, when holiness might become real.
One has to wonder how this demon in Mark's gospel knew that Jesus was the long-awaited savior?
Would we know?
Our ancestors in faith believed that spirits were more powerful than human beings but less powerful than God.
In expelling the man's demon, Jesus proves that he possesses powers stronger than those of ordinary human beings.
Is this an ancient tale or does it have relevance for us today?
What are the demons that possess us now that might be exorcised by the Holy One of God?
In our culture today do we believe that there are forces more powerful than humans and less powerful than God or have we succumbed to the intoxicating belief that we have control over everything?
A contemporary demon might be the belief that you have as much power as God.
Demons are anything that has power over you.
Anything that you give in to against your will.
Some contemporary demons are quite frightful like addiction, hatred or fear.
Others are perhaps more subtle, such as ego, anxiety, or social pressure.
One author described demons as "dysfunction and sin" that trap us "between good and evil…human finitude and failure."
I would venture to say that everyone has some demons – some known, some unknown.
The question raised in today's reading is 'who has authority over the demons?'
Jesus' authority amazed people, largely because it was a different kind of authority than any they had known.
It was the authority of liberation – setting oppressed people free.
It was also the authority of service – healing, forgiving, restoring service.
For Jesus authority is not domination or "power over".
Nor is it manipulation or "power under".
For Jesus authority is collaboration or "power with".
It is an authority derived from God's power, and it's one in which we are invited to participate.
When we gather in community we are accepting this invitation.
We gather to help one another develop power over the demons in our lives and to strengthen our resolve to resist the demons.
As the United Church of Christ we covenant with one another to exercise the type of authority Jesus modeled – "power with."
We agree to be part of a community of faith, committed to glorifying God and following the teachings of Jesus Christ.
The word community has many connotations, some positive, some negative.
Community can make us think of a safe togetherness, shared meals, common goals, and joyful celebrations.
It also can call forth images of sectarian exclusivity, in-group language, self-satisfied isolation, and romantic naiveté.
Henri Nouwen points out that community is first of all a quality of the heart that grows from the spiritual knowledge that we are alive not for ourselves but for one another.
Community is the fruit of our capacity to make the interests of others more important than our own.
The question, therefore, is not "How can we make community?" but "How can we develop and nurture giving hearts?"
Writing to the Philippians, Paul gave some instruction that rings true for us today:
"If you have any encouragement from being united with Christ, if any comfort from his love, if any fellowship with the Spirit, if any tenderness and compassion, then make my joy complete by being like-minded, having the same love, being one in spirit and purpose.  Do nothing out of selfish ambition or vain conceit, but in humility consider others better than yourselves.  Each of you should look not only to your own interests but also to the interests of others."
In any age and any religious setting, words can easily become just words.
Words, however, spoken in the name of God, have power and can, like the words of Jesus, cause things to happen.
The psalmist's words that we recited earlier provide a clear pronouncement of communal/covenantal living:
Praise God! I will give thanks to God with my whole heart, [ that means all of you – not just a bit on Sunday mornings)
in the company of the upright, in the congregation. [In the congregation – gathered as one body]
Great are the works of God, studied by all who delight in them. [When you look for signs of God's presence, you will find delight]
Full of honor and majesty is God's work, and God's righteousness 
endures forever. [God's work is what is great – not your work]
God has gained renown by wonderful deeds;
God is gracious and merciful. [God is the one with power to heal, to confront the demons, to approach each person with grace and mercy.]
God provides food for those who fear God;
God is ever mindful of God's covenant. [If only we would be as conscious of God's covenant as God is mindful of it.]
God has shown God's people the power of God's works,
in giving them the heritageof the nations. [God has given us all that we need for fruitful, faithful lives. We need only accept God's gifts and live with hearts of love.]
The works of God's hands are faithful and just; all God's precepts
are trustworthy. [All – not some; Everything that God created is faithful, just and trustworthy]
They are established forever and ever, to be performed with faithfulness
and uprightness. [Forever and ever…that's a lot longer than our short lives]
God sent redemption to God's people;
God has commanded God's covenant forever.
Holy and awesome is God's name. [Holy, holy, holy…what else can I say?]
The fear of God is the beginning of wisdom; all those who practice it
have a good understanding. [ We only have to start by loving God; wisdom will come; understanding will follow.]
God's praise endures forever. [and ever and ever…]
Let us pray.
Gracious, holy God of the covenant, join us today as we celebrate the gift of community. Be with us as we work to strengthen the ties that bind us to one another. Help us to see your divine presence in every face. Grant us the grace to live in peace with one another as we struggle to know you better. Open our hearts and our minds that we might embody your holy spirit.
Hear our prayers this day for those whom we love. For those who are sick, we pray for healing. For those who mourn we pray for comfort. For those among us who struggle with demons, known and unknown, we pray that your mighty power might free them.
We pray for our country, for peace and civility to return to our public realm. Hear us now as we turn to you with the prayers of our hearts.
Amen.