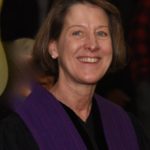 September 10, 2018
"Community of Trust" ~ sermon for September 9, 2018
For today's New Testament reading we turn to Mark's gospel.
Jesus has been traveling with his disciples, teaching and healing.
His popularity is growing and people are seeking him out with requests for help.
He has gone into Gentile territory to rest, perhaps hoping that he will find solitude. Hear now a reading from the book of Mark 7:24-37.
Here ends the reading of God's holy word. May God add to our hearing and understanding, God's blessing. Amen.
Please pray with me.
Inclusive God, ever available to all who truly seek you, come to us now through all we read and speak, that the messages your people hear may become your word to us,
a word that transforms, makes whole, and unites us in mutual learning and service, for the sake of all your children.
May the words of my mouth and the meditations of my heart be acceptable to you O Lord, my rock and my redeemer. Amen.
Sermon
Welcome back. It is great to see all of you.
I hope that your summer was a good one, filled with Holy Moments.
Holy moments are those times when you experience God's presence or the Holy Spirit's movement in your life.
They are the times when you realize that there is something larger, greater, more powerful than you.
In today's reading we encounter several holy moments beyond what we could perhaps ever imagine.
First a Syrophenecian woman whose love for her daughter is so strong it propels her beyond the cultural boundaries to approach a Rabbi for help for her sick child.
It was unheard of for a Gentile woman to speak to a Jewish teacher, but this woman is bold.
She has heard the stories of Jesus' healing powers and she is hopeful that her daughter can be saved.
She cries out in the public square.
Jesus rebukes her in harsh words, but this feisty woman turns his words around to make a point that wins his favor.
He relents and heals her daughter from afar. Holy moment #1.
I pray that the mothers of children torn from their arms at our borders will be as relentless in calling out to the authorities for the return of their children.
One commentator wrote that this passage reminds pastors, teachers and others in positions of authority how to lose an argument.
When Jesus recognizes that the woman's argument is stronger than his own he grants her petition.
Many of us do not have nearly so much graciousness.
Even when we know that the other person is right, we may try to justify ourselves rather than agree and get on with the business at hand.
Certainly listening to the United States Senate Judiciary committee's hearings this week demonstrated that few of our leaders possess this ability.
Jesus shows us that he has the ability to listen and learn from someone else. Holy moment #2.
Imagine if our government could admit that taking children at the border was not a good idea and commit their resources to fixing this situation.
Next we encounter a man who cannot speak nor hear.
In an act of complete trust the man allows Jesus to take him aside, put his fingers in his ears and spit on his tongue! The man is healed.
Holy moment #3.
I always view stories of people's eyes or ears being open as metaphors for our own stubbornness – our own inability to hear another's voice or see the beauty in a neighbor.
Jesus orders the man and his friends to be quiet, but of course they cannot.
Holy moments are meant to be shared.
It is by proclaiming the greatness of God's power in our lives that we introduce the possibility to others.
I was thinking about my own holy moments – there are big ones like the birth of my children, waking up from brain surgery, watching my mother die, feeling called to ministry – but there are also less monumental holy moments that happen every day like seeing a hummingbird, or feeling a warm breeze at night, or seeing a brighter than usual star.
There are also those moments that make you gasp in awe when the Spirit moves two estranged people to reconciliation or when a prayer is so visibly answered that you can only sigh.
One commentator said "Understanding can be expressed to others only if we speak. It is fair to say that unless people can tell others what they know, they do not really know it."
Imagine each of the people in todays reading telling their stories: the Syrophonecian woman, the healed daughter, the deaf man.
They have been witnesses to miracles.
By sharing their experiences the miracle becomes a reality – it really did happen.
Stories bring experiences to life and create memories.
Stories lend an air of authenticity to our being.
The other side of telling stories is hearing them.
Mark's gospel puts much emphasis on Jesus' inclination to listen deeply to people.
Jesus notices people others might not see.
It is one of the most profound intersections of the divinity and humanity of Jesus.
Jesus – the divine sees and hears the most marginalized people – Jesus – the human reaches out to them.
He extends a hand of love and asks, "What do you have to say?"
Scripture is full of personal stories of people's encounter with God.
The Hebrew scriptures, the words of the prophets, the gospels – certainly all of Paul's writings are accounts of holy moments between God and humanity.
By sharing our stories we spread God's love.
By listening to stories we honor each other.
This is the lesson for us in today's reading.
As Christians, we are called to follow the ways of Jesus – to listen deeply to one another.
We are called to seek the stories, to witness the miracles, to believe.
Henri Nouwen reminds us that
"Listening is very hard, because it asks of us so much interior stability that we no longer need to prove ourselves by speeches, arguments, statements, or declarations.
True listeners no longer have an inner need to make their presence known. They are free to receive, to welcome, to accept."
Listening is much more than allowing another to talk while waiting for a chance to respond.
Listening is paying full attention to others and welcoming them into our very beings.
The beauty of listening is that, those who are listened to start feeling accepted, start taking their words more seriously and discovering their own true selves.
Listening is a form of spiritual hospitality by which you invite strangers to become friends, to get to know their inner selves more fully, and even to dare to be silent with you."
I believe that our lives are enhanced when we share our stories with each other.
When our presence is valued by another, trust begins to form.
When we listen and are listened to we build a community of trust.
Church is a great place to do this.
Here, in conversation, you can attest to the work of the Holy Spirit in your life.
You can safely say, "I felt God's presence in that moment."
When we listen to one another we gain an understanding and we have the opportunity to truly see Christ living in the other person.
Today is the start of a new church year.
Let this be the year that we endeavor to proclaim God's glory to the world.
Let us start paying attention to the movement of the Holy Spirit in our own lives and then sharing that with others.
Let us listen deeply to one another, seeking Christ in our neighbor.
Let us live in great expectation of the next holy moment in our lives.
Let us pray.
Gracious and loving God, we are open to your presence.
We seek your love and comfort. We listen for your voice.
Come, O God, and reign among us.
Let your holy spirit flow through our lives bringing fresh ideas and new perspectives.
Help us be faithful storytellers and good listeners.
Enhance our lives, we pray, with the blessings of holy moments.
Hear our prayers this day for those whom we love.
For those who are sick, we pray for healing.
For those who mourn, we pray for comfort.
We pray for all those in transition at this the start of our new church year.
May each and every one hear your voice clearly guiding them on their journey.
We pray for our leaders that they might have a passion for justice and peace.
Hear our prayers O God, those we say aloud and those that we share in the silence of this sacred meetinghouse.
Jesus taught them to pray in these words,
Our Father…