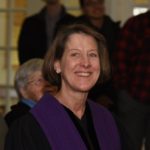 November 27, 2017
"Hearts Full of Gratitude" ~ Sermon for November 26, 2017
Our New Testament reading this morning is drawn from Paul's letter to the Ephesians. This particular passage is in the form of a prayer.
Paul's prayer is a fitting end to our liturgical year, declaring Jesus Christ as the 'king;' the head of the church.
The prayer also serves as a perfect introduction into our season of Advent, which starts next week.
Paul's desire that his followers open their hearts to receive the hope that Christ brings sets the stage for us to prepare the way for Emmanuel, God with us.
Hear now a reading from the first chapter of Ephesians 15-23.
Here ends the reading of God's holy word. May God add to our hearing and understanding, God's blessings. Amen.
Please pray with me.
Almighty God, reveal to me the greatness of your power, that I may see your presence among the lowly and the lost and k now the authority and sovereignty of your love in Jesus Christ, our Lord.
May the words of my mouth and the meditations of my heart be acceptable to you, O Lord, my rock and my redeemer. Amen.
Sermon
Paul wants the best for his people.
He sincerely desires for them to live in community, caring for one another and recognizing all of the blessings they have received in Christ Jesus.
I share Paul's conviction.
I want for this to be a place where you feel loved and blessed.
I want church to be a place where your deepest needs for recognition and validation are met.
I want our children to think of church as a place filled with kind, gentle people.
It is with all of this in mind that I decided to adopt the theme of 'Gratitude' for Advent this year.
Sarah Zarbock shared an essay this week, written by John Pavlovitz, which resonated with me.
I'm going to share the whole thing with you – because I couldn't say this better myself:
"There's a place I like to visit from time to time: a place called Enough.
It is that place where my endlessly racing heart finally slows, where the ever-clenched muscles in my jaw release, where my labored breathing stretches from short, shallow sips into slow, savoring swells. 
There my chest expands and contracts fully without interruption and my mind no longer chases what was or might be or should be, but pauses to quietly rest in what is.
There in Enough, all of the hot, crackling noise within my head ceases; the constant comparisons that tell me that I am not measuring up, the never-ending criticisms that forever state their disapproval, the taunting whispers reminding me of both what I have failed to grasp and what I am most surely bound to lose.
When I am firmly planted in this place, there is no frantic striving, no jockeying for position, no desperate running-after, nothing more to do or prove or earn or achieve or make. 
There is only the wide, soft expanse of gratitude upon which I can rest all of myself.
I so love this place, though I always feel like a temporary guest here, only stopping for the briefest of seconds before care and expectation and worry all conspire to rip me out and pull me back to a familiar place of failing and lack and less-than.
No sooner do I find a momentary clearing and my thoughts are once again cluttered with swirling lists of works unfinished, of needs unfulfilled, of looming battles to be waged—and I begin to run again after that which is forever just beyond the reach of my outstretched fingertips.
And though this self-induced struggling is all rightly exhausting, I fear that I have developed an insatiable addiction to more, to better, to greater. 
It causes me to breathlessly pursue a high that never satisfies but only promises that it soon will; just one more win, just five more pounds, just a few more bucks in the bank, just another hundred follows.
Then, I'll get to Enough for good—instead of this not good enough.
I'm tired of just passing through gratitude and holidaying in contentment.
I want to linger here.
I want to live in this place.
I dream of the time when I will make my home here, when I will for more than a day or a season, find thanksgiving my soul's default setting; when I will dwell upon the sufficiency and beauty and goodness of the present without it needing alteration or upgrade.
I look to the day when what I see in my home and my bank account and my work and the mirror are no longer reminders of what is yet to be gained or done or fixed, but clear confirmation of what is already mine—and that this news yields only a full, satiating joy.
Maybe today will be the day when I permanently retire from the striving, when I forever abandon the noisy melodrama; the day when I finally stop running and can lay my head back upon this singular moment and need nothing else to complete it.
I pray this for me.
I pray it for you.
May we believe presently that we have enough, that we do enough, that we are enough.
May you and I learn to live in thanksgiving, to take up residence in contentment, to make our homes in gratitude.
May we find the waiting, elusive, beautiful place called Enough, and may we stay there for good."
This is my goal for us this Advent.
We will endeavor each week to fill our hearts with gratitude, replacing any negativity or discontent, with love and compassion.
We will prepare our hearts for the coming of our savior Jesus Christ.
A recent study from Harvard suggested that expressing thanks could be one of the simplest ways to feel better.
The simple practice of giving thanks uplifts the spirit, helps alleviate stress and provides an attitude shift that alters the way you view life.
Bess O'Connor, writing in Spirituality and Health Magazine recommends these gratitude affirmations to make your day just a bit better.
She suggests repeating them to yourself throughout the day:
God is the source of my hope and strength.
I experience gratitude for everything I have in my life.
I always receive exactly what I ask for and appreciate that.
I am grateful for excellent health, prosperity and true love.
My life is filled with an abundance of goodness.
All challenges are an opportunity for growth and I am thankful for the chance to evolve.
I am so grateful for supportive friends and a loving family.
I appreciate everything I have in my life and always keep the door open for more blessings.
The universe supports me and all my desires.
I am the co-creator of my reality.
I see the beauty in nature that surrounds me.
I see animals as sacred and appreciate the gifts they give.
I give thanks for the helpful spirits and ancestors that guide me in this life journey.
I am blessed.
I feel gratitude for the all!
I experience gratitude for everything I have in my life.
I see the beauty in nature that surrounds me.
There is a great story in this morning's New York Times on how to be happy: https://www.nytimes.com/guides/well/how-to-be-happy.
I recommend it to you for this afternoon's reading.
As Advent season approaches, let's get ready by filling our hearts with thanks and praise – decorating, as it were, for the coming guest: Emmanuel.
I'll close with a favorite poem by 15th century Sufi poet, Rumi:
Out beyond ideas of wrongdoing and rightdoing,
there is a field. I'll meet you there. 
When the soul lies down in that grass,
the world is too full to talk about.
Ideas, language, even the phrase "each other"
doesn't make any sense.
Let's spend December in that field.
Let us pray.
Gracious and holy God, hear us this day as we invite you into our hearts.
Grant us the grace, we pray to be grateful for all of the blessings in our lives.
Help us to find our way to the land of 'Enough' where you reign.
Help us to see what is good in our lives and to be grateful.
Hear our prayers this morning for those whom we love.
For those who are sick, we pray for healing.
For those who mourn, we pray for comfort.
For those who are trapped in a world of complaint and bitterness, send your Holy Spirit to free them and let them move to a place where love and compassion flow freely.
On this last day of the Liturgical Year we give thanks for all that has transpired and pray for your guidance in navigating the journey ahead.
O God, let there be peace on earth and let it begin with us.
Hear now our silent prayers as we turn to you in the sacred stillness of this Meetinghouse.
Amen.