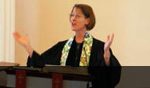 July 12, 2017
One Body ~ Sermon for July 9, 2017
Sermon
Well, my friends, I have returned from representing you at the 31st Synod of the United Church of Christ in Baltimore.
As promised, it was five days of hearings, meetings, worship and events from 6:30 am until 10:30 pm.
We debated end of life care; Cuban-American relations; gun violence; adoptee rights; environmental justice; minimum wage requirements, and disability rights.
We heard from electrifying preachers on following the Holy Spirit and accompanying those less fortunate on their journey.
We heard from the young people about the importance of intersectionality and from the older people about the importance of discipleship.
It was exhausting and exhilarating at the same time.
I can report to you that the world is changing.
The United Church of Christ is living into the multicultural, multiracial church envisioned in a 1993 resolution.
I came away from the gathering thinking that Salisbury is a microcosm of the past and the synod gathering was a microcosm of the future.
Our two realities are inextricably linked and mutually dependent on one another to survive.
First, I want to share the UCC's newly revised purpose, vision and mission statements:
The purpose of the UCC will be: to love God with all our heart, mind, soul and strength and our neighbor as ourselves.
Our vision is: United in Christ's love, a just world for all.
Our mission statement is: United in Spirit and inspired by God's grace, we welcome all, love all, and seek justice for all.
Justice for all will be the mark of the UCC going forward, replacing the God is still speaking campaign.
This initiative is grounded in three great loves: Love of Neighbor, Love of Children, and Love of Creation.
These initiatives will be accompanied by several national outreach projects.
In the Fall of 2017 the national setting will sponsor a drive to provide basic needs items to those in need of protection, shelter and support;
during the fall of 2018 national will collect and donate school supplies to address inequities in our education systems and
in 2019, to show our love of creation, they will sponsor a 5K walk to raise awareness about environmental issues.
They will continue to promote legislation and generate worship materials that support the three great loves and will gather and share stories of efforts by local congregations working to create a just world for all.
I want to share two specific incidents from synod with you.
Each had a profound impact on me.
The first was a group of teens from Chicago who spoke in favor of a resolution encouraging the study of gun violence as a public health crisis.
These four beautiful young people came to the microphone and the first speaker opened her remarks by saying "Most of our friends are gone."
They went on to speak about their fear of going to school or out into the community.
Death has become part of their young lives – it is expected.
Gun violence has become the norm in their neighborhoods.
In the time we were at synod seven people were shot in Chicago.
Now, regardless of where you stand on gun ownership or 2nd amendment rights – these children were crying for help in changing a pattern of behavior that is killing their friends.
One made the point that if anything else, a virus or a poison, had killed seven people in one community in a weekend, there would be outrage.
The world outside of Salisbury is groaning.
The second moment also involved a young person speaking out.
During the debate on a resolution regarding disability rights someone suggested an amendment changing the language of intersectionality to impact.
A young woman came to the microphone outraged that the collected body seemed unaware of the concept of 'intersectionality.'
She read us the following definition: "the interconnected nature of social categorizations such as race, class, and gender as they apply to a given individual or group, regarded as creating overlapping and interdependent systems of discrimination or disadvantage."
Intersectionality is a term coined by American civil rights advocate Kimberlé Williams Crenshaw to describe overlapping or intersecting social identities and related systems of oppression, domination, or discrimination.
It has become a specific area of academic study.
The world outside of Salisbury is groaning.
Now I want to be cautious.
I am in no way condemning our way of life or the good fortune we have to live in such a wonderful place.
I am, however, intent on drawing our attention to our covenant partners throughout the country and the world who are in need of our love.
Paul makes the case: For just as the body is one and has many members, and all the members of the body, though many, are one body, so it is with Christ….The eye cannot say to the hand, 'I have no need of you, nor again the head to the feet, I have no need of you."
We are a part of the body of Christ in this world.
We are covenant partners of the United Church of Christ and we have a responsibility to think deeply, to pray fervently, to ask God what we ought to be doing to mend the world.
Let's talk about this?
What can Salisbury Congregational Church do to help create a just world for all?
Let us pray.
Gracious and loving God, you have blessed us with an abundance of riches, for that we are grateful.
We know that our family in faith is made up of many parts, each interconnected, interdependent – existing at the intersections of class, gender, race, ability and geography.
Help us we pray to live into the vision of a just world for all.
Grant us eyes to see and ears to hear the groans of our universe.
Hear us this day as we pray for those whom we love.
For those who are sick, we pray for healing.
For those who mourn, we pray for comfort.
O God, we pray for humanity, that we might find a way to health and peace that will include all of your beloved children.
Hear us now in the sacred silence of this Meetinghouse as we turn to you with prayers of our hearts….
Jesus taught them to pray in these words….Our Father….