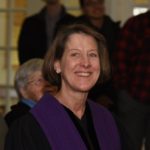 September 12, 2017
"Put on the Armor of Light" sermon for September 10, 2017
Welcome home!
What a joy it is to gather with you today.
I hope that your summer was rich with love.
I want to start off this morning by reading a short story that came to my attention this summer.
I was moved by its message and believe that it provides a context for our life together:
One of Us by Megan McKenna
Once upon a time there was an abbot of a monastery who was very good friends with the rabbi of a local synagogue.
It was Europe, and times were hard…
The abbot found his community dwindling and the faith life of his monks shallow and lifeless.
Life in the monastery was dying.
He went to his friend and wept.
His friend, the rabbi, comforted him and told him: "There is something you need to know, my brother. We have long known in the Jewish community that the Messiah is one of you."
"What?" exclaimed the abbot. "The Messiah is one of us? How can that be?"
But the rabbi insisted that it was so, and the abbot went back to his monastery wondering and praying, comforted and excited.
Once back in the monastery, walking down the halls and in the courtyard, he would pass by a monk and wonder if he was the one.
Sitting in a chapel, praying, he would hear a voice and look intently at a face and wonder if he was the one, and he began to treat all of his brothers with respect, with kindness and awe, with reverence.
Soon it became quite noticeable.
One of the other brothers came to him and asked what had happened to him.
After some coaxing, he told him what the rabbi had said.
Soon the other monk was looking at his brothers differently and wondering.
The word spread through the monastery quickly: 'The Messiah is one of us.'
Soon the whole monastery was full of life, worship, kindness and grace.
The prayer life was rich and passionate, devoted, and the psalms and liturgy and services were alive and vibrant.
Soon the surrounding villagers were coming to the services and listening and watching intently, and there were many who wished to join the community.
After their noviatiate, when they took their vows, the monks were told the mystery, the truth that their life was based upon, the source of their strength and life together: 'The Messiah is one of us.'
The monastery grew and expanded into house after house, and all of the monks grew in wisdom, age, and grace before the others and the eyes of God.
And they say still, if you stumble across this place, where there is life and hope and kindness and graciousness, that the secret is the same: 'The Messiah is one of us.'
Oh my friends, what a way to live.
Seeing each and every person as a possible Messiah.
This is the approach I am promoting for our year ahead.
I want us to celebrate the divine in one another.
I want us to acknowledge our inter-connectedness.
This is what we shall commit ourselves to in the year ahead.
As Paul instructs in his letter to the Romans, it is time for us to "lay aside the works of darkness and put on the armor of light."
The world feels like a tumultuous place right now.
Nothing seems to be working the way it is supposed to – not the weather, not the government, not even the church.
But it is here that I pause to remind you that we are a people of hope.
I had the privilege of presiding over five weddings this summer and in each one the couples voiced their intentions to love and care for one another for the rest of their lives.
Their imaginations were filled with pictures of what life would look like in ten, twenty or fifty years.
They pledged their commitment to work out differences, to abide by their shared values and to stand by each other's side, no matter what.
I came away from all those weddings believing that the world will be all right.
The generations to come will find a way to bring God's kingdom to earth.
They are clothed in the armor of light.
The Sacradise blog this week pointed out that "For God's Reign to become a reality in our world, we must heal the brokenness, violence, injustice, and division that oppose it.
The problem is when we begin by identifying evil only outside of us.
Then we inevitably ignore the evil within us, and become self-righteous, judgmental and even aggressive as we oppose "the others" in whom we see all that is wrong with the world.
This happens both on a global and an inter-personal scale.
However, once we have done the work of receiving deliverance from our own sin, we become those who radiate the grace and love of God, and we are able to bring liberation to others just by being the Christ-followers we are called to be."
All summer we explored the question of who we are as a church.
Now it is time to answer that question.
I know that some of you are uncomfortable with our 'be the church' banner.
You see these exhortations as outside the realm of worship.
I would argue that it is time for the church to reassert its role as the moral leader in society.
Our early church ancestors struggled with how to embody Jesus' teachings in their lives.
It is a lifelong challenge – to emulate Jesus.
It has never been easy and it was never meant to be comfortable.
We are the church of Jesus Christ, founded to bring the good news of the gospel to all people and to live out the great commandment of loving God, neighbor and self.
Let's apply all of our energy to making that a reality.
Let's turn outward this season and look for ways to help our neighbors.
Let's lighten our grip on tradition and money so that we might explore and imagine new ways of being in the world.
I challenge each one of you, in the year ahead, to invite one person or family to church; to initiate one conversation with someone you have never spoken to in our church; to examine one idea that you are certain of for other perspectives.
There is no question that the church as we know it in American society is changing.
Almost 40 percent of Americans, particularly young Americans, profess no religious affiliation.
It is up to us, the remnant, to model a life of faith that others want to emulate.
Our worship must be relevant to the lives of those who gather;
our service to the community must be rooted in love of neighbor;
our testimony must be honest and forthright.
We are called to follow Christ's teachings and to share that good news with everyone we meet, especially our children.
Please turn to the inside covers of your hymnal, to the United Church of Christ's Statement of Faith and join me in professing our faith together. (Statement of Faith)
I hope that you will spend time this week reflecting on these words and discerning how you will live out your discipleship.