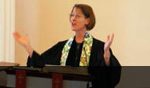 May 15, 2017
The Way, The Truth and The Life – Sermon for May 14
Our reading this morning continues in John's gospel.
Jesus offers a prayer for his disciples as part of his farewell address.
In perhaps some of the best known New Testament scripture, Jesus assures his followers that he will be with them forever.
Once again, he asserts his divinity and defines his relationship to God as his father. Here now a reading from the gospel of John 14:1-15.
Here ends the reading of God's holy word. May He add to our hearing and understanding, his blessings. Amen.
Please pray with me.
Risen Christ, you prepare a place for us, in the home of the Mother-and-Father of us all.
Draw us more deeply into yourself, through scripture read, water splashed, bread broken, wine poured, so that when our hearts are troubled, we will know you more completely as the way, the truth, and the life.
May the words of my mouth and the meditations of my heart be acceptable to you, O Lord, my rock and my redeemer. Amen.
Sermon
In my Father's house there are many dwelling-places.
I have always loved that line from scripture.
Perhaps because this passage is read as words of comfort at funerals and memorial services, I hear it that way – as a balm.
I hear Jesus' promise that there are many rooms in his father's house as a message that God welcomes all.
It is intriguing to me that this passage which I read as expansive and inclusive of all of God's created beings has been used by some as an exclusive, judgmental declaration.
Too often, I have heard people use the verse "I am the way and the truth and the life. No one comes to the Father except through me" as a weapon of discrimination and bigotry.
Jesus' intent is to invite us into the love that God offers.
He is extending his hand and saying, "Come, I will show you what it is like to live in God's light."
He is offering himself as a conduit of grace and he offers it to everyone.
No one is excluded.
Jesus was God's gift to us – the one sent to show us the way to truth and life.
When we accept his offer our lives are enriched.
Interestingly enough, if you accept the teachings of Jesus Christ, you would never exclude anyone except perhaps religious hypocrites.
Jesus saved his ire for those who presented themselves as better than others.
He never turned his back on the suffering, the downtrodden, the ill, or the poor.
No, the way that Jesus teaches us is the way of the heart.
Our musical theme for today's service is 'hymn of promise.'
In this beautiful hymn we hear the refrain "unrevealed until its season, something God alone can see."
These words remind us that God sees beauty and truth in places that we do not.
In the rough texture of a bulb, God sees the beauty of the potential flower.
So, too, in the person who seems different, God sees a reflection of the divine.
I believe that we have forgotten how different God is from us.
We have created God in our own image, rather than striving to be a reflection of the goodness of God.
But God is not like us. God is not a man or a woman.
God is not white or black.
God is not human.
God is spirit.
God is divine.
God is greater than our imaginations can comprehend.
God is infinite and eternal.
This is good news!
It is good news because we do not want to rely on a limited source for our well-being.
If God's power were limited to our power, where would our hope lie?
Knowing that God's power far exceeds our own provides comfort and hope.
God sees what we cannot.
On this particular day set aside to honor mothers – which all of us had, we are reminded that for some the thoughts of mothers bring joy and celebration, but for others it might bring pain and sadness.
We infuse our mothers with all of our greatest hopes and as a result they are often the target of our greatest disappointments.
Each of our mothers is or was strictly human.
Their ability to meet our needs and expectations is tainted with their humanity.
A mother's love is mythologized as near perfect, but only God's love can reach that mark.
If your mother memories are beautiful and loving, give thanks that you have been close to God.
If your memories are painful, know that God knows and offers you the unconditional, pure love that you yearn for.
Later today we will host perhaps our most controversial Peace Through Understanding program.
I say controversial because the lesbian, gay, bisexual, transgendered, queer community is one that seems closer to our own.
Our own sons and daughters, neighbors and friends may claim an LGBTQ identity and we may not even know it.
As you go about your day today, whether or not you are able to join us this afternoon I invite you to reflect on these words from our hymn of promise: There's a song in every silence, seeking word and melody; there's a dawn in every darkness bringing hope to you and me. From the past will come the future; what it holds, a mystery, unrevealed until its season, something God alone can see.
I want to share a poem written by our speaker for this afternoon's program:
Every Note by Rev. Aaron Miller
Like a note in a song, we are each essential.
A beat cannot be skipped without interrupting the song's rhythm and cadence.
Would we say one note is wrong, unnecessary or has less value than another…
when the song is so beautiful that it touches our hearts and compels us to sing along?
Different since birth, the transgender experience has been, at times,
difficult, isolating, and even painful in a world that does not seek to understand.
Arms did not reach for me.
No band aids were offered to protect my spirit and to heal my soul.
I was not accepted as one of the boys and I definitely was not a girl.
I was a note in the wrong song.
I cried out to God "Why did you create me so differently?"
In the quiet of the sanctuary I had created…something stirred.
A still small voice whispered "You are a note in the song that I am singing" I answered "Why then am I so different?"
And, God said "You are a beautiful note that creates the harmony in my song —
a song that you call humanity.
Melody and harmony need each other
to create something new and beautiful together.
So, play your note with joy, my child.
You are part of a song that is not yet complete.
Look and you will see…hearts opening to this beautiful song.
Some are even compelled to sing along.
I ask that you have faith enough to trust the Songwriter
For you are my beloved.
And, your note is beautiful and essential—-to Me."
My friends, on this day when we celebrate mothers and the unconditional God-like love so many of them provide, let us be mindful that the love of God exceeds all human capacity and is offered to each one of us.
Jesus said "If in my name you ask me for anything, I will do it."
What I ask for is peace and understanding, love and compassion.
I ask for hearts that are filled with love for neighbors and friends whose lives may not mirror our own.
Let us pray.
Gracious and loving God, we yearn to know you better, to comprehend your greatness and to live as reflections of your love.
We hear Jesus' invitation to follow his way and know that if we could do that we would find truth and life.
Oh God you have shown us in mothers and fathers, friends and neighbors what love can look like.
Open our hearts and minds so that we might experience even greater love in our lives.
Help us to refrain from judgment of our divine siblings and to embrace the mystery of your power.
O God, hear our prayers this day for those whom we love.
For those who are sick, we pray for healing, for Ranson, Nancy
For those who mourn, we pray for comfort, Judy's family,
For those who can't see the promise of new life in the future, we pray that your Holy Spirit will find them.
We pray for all the people in transition at this time of year, that they may listen for your direction on what path they might follow.
We pray this day for our leaders that they might yearn for peace.
We pray, with thanksgiving, for our mothers – wherever they are, grateful for their presence in our lives.
We turn to you now, in the sacred silence of this Meetinghouse with the prayers of our hearts. …
Amen.