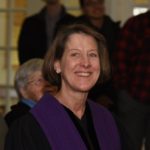 December 11, 2017
"What Are You Waiting For?" ~ sermon for December 3, 2017
Our New Testament reading this morning sets the stage for Advent.
This year the Gospel of Mark gives us the frame through which we view the story of Jesus and its implications for our lives.
This first Advent Sunday always draws our attention to the apocalyptic sayings of Jesus, and the vision he gives of God's presence breaking into the world of human affairs.
As we begin the journey through the life of Jesus we start with God's hope-filled end in mind.
We are reminded that our world is not random, and that the universe is moving toward a future of restoration, wholeness and unity in Christ.
We are reminded that even in the midst of the world's turmoil God is at work, and God's glorious presence is always breaking into our lives.
Toward the end of Mark's gospel Jesus quotes from the prophets setting the scene for the eventual coming of the 'Son of Man.'
He encourages his followers to live in a state of expectation, waiting for these prophecies to come true.
On this first Advent Sunday we join in the waiting, anticipating the coming of the one called Emmanuel – God with Us.
Hear now a reading from the gospel of Mark 13:24-37.
Here ends the reading of God's holy word. May God add to our hearing and understanding, God's blessing. Amen.
Please pray with me.
Almighty God, who came to us long ago in the birth of Jesus Christ, be born in us anew today by the power of your Holy Spirit.
We offer our lives as home to you and ask for grace and strength to live as your faithful, joyful children.
May the words of my mouth and the meditations of my heart be acceptable to you, O Lord, my rock and my redeemer. Amen
Sermon
Our daily lives are filled with anticipation.
We wait for the mail to come.
We wait for a doctor's appointment.
We wait to hear from our children or friends.
We wait to see what will happen on the world stage.
We wait to feel the stirrings of God's holy spirit in our lives.
We can wait with anxiety or we can wait with hope.
Hope is the glorious anticipation of what is yet to come.
When we live in hope we acknowledge that whatever is in this moment is likely to change.
Mindfulness teaches us to live in the present with gratitude while hope allows us to look forward to what comes next.
We know that we cannot control our futures – not even the next minute, but hope allows us to anticipate a future in which our needs are met and our worries are put to rest.
We can use the present to prepare ourselves for the future.
Advent is a time of waiting and preparing for Christ's coming.
The Gospels include stories of those who waited for Jesus – Elizabeth and Zechariah, Mary and Joseph, Anna and Simeon, and the magi.
Each one of their journeys of waiting was different, but all were guided to the light of Christ by angels, dreams, the Hebrew Scriptures or a star.
They paid attention to the movement of God's holy spirit in their lives.
Each one of these biblical ancestors embraced the moment and waited patiently for God's future action.
Henri Nouwen describes this waiting as a way of life:
"If we do not wait patiently in expectation for God's coming in glory, we start wandering around, going from one little sensation to another.
Our lives get stuffed with newspaper items, television stories, and gossip.
Then our minds lose the discipline of discerning between what leads us closer to God and what doesn't, and our hearts gradually lose their spiritual sensitivity.
Without waiting for the second coming of Christ, we will stagnate quickly and become tempted to indulge in whatever gives us a moment of pleasure."
The purpose of the Bible's prophetic writing is not to focus our energy on a future life of bliss and glory but to allow our future hope to change how we live and work in our world today.
When we realize that God's dream of wholeness and unity for the universe is being worked out in our own time, and in our own lives, it changes how we think, how we interact with others, and how we live.
It gives our lives meaning, because we recognize that we are participants in God's mission.
Like those who came before us, and those who come after us, we must watch for God's presence and follow God's directions.
The holiday season that is now upon us is rife with opportunities to wander away from God.
Too often, we get overwhelmed by the expectations of perfect holiday gifts or clothes or meals.
We succumb to the pressure to socialize more than we want to, to eat or drink in excess, to spend money we do not have.
Yet all of this, the gifts, the celebrations, the decorating, are rituals designed to praise God and welcome Emmanuel – God with us – into our hearts.
Our readings this morning encourage us to remain hopeful in times of darkness and chaos.
The light of Christ is promised.
Our challenge is to live in this promise.
We create this environment for ourselves.
We are to live in a spirit of gratitude for this day; for all that we have as we journey toward whatever might be next.
Genuine gratitude brings us humility and reconnects us with God and each other — especially those who need us in some way.
It erases our society's illusions about winners and losers.
It directly challenges our judgments about who is deserving and who is undeserving.
It reminds us of our total dependence on God for everything.
It brings us back to the central truth that every breath and every heartbeat is a gift freely given to each of us with no merit involved whatsoever.
And everything is meant to be shared in the same spirit of gratitude and love.
God is ever present in our lives – in good and not-so-good times.
The psalmists, the prophets, and Jesus all tell us to pay attention to what might be.
Get ready for whatever is coming, anticipating that it is good.
This living in a state of anticipation can be very exciting.
When you decide to watch for God's presence in your daily life you will be rewarded.
When you look for evidence of the Holy Spirit's movement among you, you will be surprised how often you feel this sense of the extraordinary breaking in on the ordinary.
Advent is a time when we allow "the holy" to break into "the daily."
When you live in anticipation of Jesus walking in at any moment it will change the way you treat people – you don't want Jesus to catch you being rude or mean to someone.
Advent is a season of opportunity.
We start a new liturgical year.
We turn the proverbial page and begin a new chapter.
This seasonal shift allows us to take advantage of God's gift of renewal.
God has promised, through the psalmist, prophets and Jesus to bring light into the dark places in our lives.
We are born anew with the baby who is born anew each Christmas.
We are reminded each year that God is with us on our journey.
Hope is the cloak that we wear on this journey.
We wrap ourselves in the understanding that God has this.
God will not forsake us.
This Advent season I invite you to explore what it is that you are waiting for.
What might be in the way of God's spirit taking up residence in your heart?
Is it fear?
Judgment?
Doubt?
I invite you to shine God's light on these dark places and sing out!
Rejoice! Rejoice!
Let us pray.
Gracious and loving God we open our hearts to you this day as we cry out for Emmanuel.
Help us to approach this Advent season with gratitude for all that we have and faith and hope in what you have in store for us.
Grant us the grace we pray to surrender our hearts to you.
O God, you know us best and we wait for your coming with anticipation.
Shape us God to be your dutiful servants, spreading the love of Jesus Christ throughout the world.
Hear our prayers this day for those whom we love.
For those who are sick, we pray for healing.
For those who mourn, we pray for comfort.
For those whose hearts are restless, we pray that they will find rest in you.
We pray that the Prince of Peace will bring peace to our world.
Hear now our silent prayers as we turn our hearts to you in the sacred stillness of this Meetinghouse…
Amen.