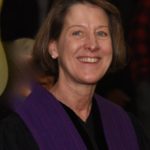 September 17, 2018
"Who Do People say that you Are?" ~ Sermon for September 16, 2018
Today's New Testament reading continues in Mark's gospel.
Jesus is teaching as he travels and once again, he gets a bit irritated with the disciples.
This passage gives us a clear understanding of what Jesus expects from those who claim to follow him.
Hear now a reading from the book of Mark 8:27-38.
Hear ends the reading of God's holy word. May God add to our hearing and understanding, God's blessings. Amen.
Please pray with me.
Reigning God, whom we have glimpsed in creation and in the life of one who shared our common lot, help us to acknowledge the Messiah, not in empty words but in self-emptying service that risks life for the sake of love.
May the words of my mouth and the meditations of my heart be acceptable to you, O Lord, my rock and my redeemer. Amen.
Sermon
'Who do people say that I am?" asks Jesus.
The Disciples reply: John the Baptist, Elijah, a prophet.
'Who do you say that I am?'
'The Messiah' Peter answers.
Each one present has had their own personal experience with Jesus.
They have travelled with him, witnessed miracles, and listened to his lessons.
Each one has been transformed in a unique way.
There is a poster outside my office that says:
An thou shalt call his name Jesus, Prince of Peace, Mighty God, Wonderful Counselor, Holy One, Lamb of God, Prince of Life, Lord God Almighty, Lion of the Tribe of Judah, Root of David, Word of Life, Author and Finisher of Our Faith, Advocate, The Way, Dayspring, Lord of All, I am, Son of God, Shepherd and Bishop of Souls, Messiah, The Truth, Saviour, Chief Cornerstone, King of Kings, Righteous Judge, Light of the World, Head of the Church, Morning Star, Sun of Righteousness, Lord Jesus Christ, Chief Shepherd, Resurrection and Life, Horn of Salvation, Governor, The Alpha and the Omega.
What description resonates with you?
How would you answer Jesus' question?
Who is Jesus to you?
Jesus, just like us, is encountered in many different ways.
I remember an ice-breaking exercise at a hotline training years ago where we sat in pairs and for two minutes named as many descriptors for ourselves as possible.
Try this for yourself.
For example, for me: Wife, mother, mother-in-law, friend, sister, sister-in-law, daughter, pastor, minister, advocate, writer, hiker, reader, solitaire player, gardener, listener, peacemaker, leader, follower, voter, student, person of faith…
All of these descriptions whether for us or for Jesus give us but a glimpse into the character and depth of the person.
Each description comes with a preconceived cultural identity.
Think about this.
How often do you judge people based on the labels that might describe them?
Do you form opinions based on race, age, gender, appearance, profession?
If you met Jesus, a relatively young, dark-skinned, homeless man, would your preconceived notions preclude you from an encounter with the Savior?
I have conducted a lot of memorial services this summer and one of the aspects I always find intriguing is the many different ways people describe their relationship to the person who has died.
We hear from children, friends, siblings – each describing the person from their own perspective.
Slowly a full picture evolves, often one with many more dimensions than I knew.
This has taught me that there is always more to people than you realize.
We are really only completely known and understood by God.
As much as we might love our family and friends, only God knows everything about us.
So much of what we think we know is based on our own perspective and might not even be applicable to another person.
Jesus wanted his disciples to know that he was the Messiah, but he also wanted them to understand that it wasn't all good.
To be the Savior of the World, Jesus knew that he was going to have to give up his earthly life, destroyed by the very people he came to save.
In sharing this insight with the disciples he was hoping to prepare them for difficult times ahead.
Peter would have none of it.
Peter only wanted to see the glory of the Messiah, not the sacrifice.
Jesus rebuked him with the harsh put down "Get behind me Satan" charging Peter with focusing on only earthly things.
Peter was responding to Jesus telling him that things were not going to work out the way he expected.
How often do we respond with anger or derision when someone tells us something we don't want to hear?
When people misunderstand us because they don't know enough about us, when we misjudge a person based on misinformation, when things do not turn out as we hoped or planned, we can be said to be 'out of alignment.'
I came across this lovely prayer this week called "Living Aligned:"
In our daily choices and relationships,
in our homes and communities,
May we align ourselves with your love, O God.
In our citizenship and country,
in our national discourse and social participation,
May we align ourselves with your love, O God.
In our world and on the earth,
in our care for the planet, and our sharing of its resources,
May we align ourselves with your love, O God.
And may your love fill the globe,
so that followers and leaders,
poor and wealthy,
weak and powerful,
servant and served,
May we live aligned to your love.
This is my prayer for us.
When you think of all the different ways that people know you, think about the consistent characteristics that those people see.
Ask yourself if you are able to be genuine in most circumstances.
Do the people at work encounter the same person as the people at home?
Would your family and friends describe you in the same way?
This alignment of self with God is the basis for integrity.
When we seek to follow the way of Jesus we must do so in all aspects of our lives.
We must strive to be honest in our lives, letting our true selves flourish.
This is what God intended for us.
Jesus makes it clear that this is not an easy path.
In order to identify as a follower Jesus requires you to deny yourself as most important.
A true disciple will take up the cross and lose their life for Jesus' sake.
Obeying the call of Wisdom, embracing God's instruction, watching how we use our tongues, taking up our crosses and following Jesus – these are the themes that come together in our readings this week.
They may seem diverse, but they can all be brought together under this label of integrity.
This quality marks a life that is true, just, gracious and compassionate, and it's a quality that is desperately needed in our world today.
As hard as it can sometimes be to hold on to our integrity, in the end, it's the only thing that can bring about authentic transformation in our world.
When the integrity of Christ is manifest in our lives, it will rub off on others, and slowly systems and people will change.
So, this week, I encourage you to examine your life.
Who are you?
Who do others say that you are?
If the answer to these two questions is not the same, it's time to embark on some transformation work.
It's time to seek God's guidance on bringing your true self to the fore.
Jesus provides the example.
Let's follow his way.
Let us pray.
Gracious, holy God of transformation come into our lives today and help us align your will for us with our own behavior.
Grant us the grace, we pray, to be the compassionate, thoughtful, wise people you created us to be.
Help us to discern our gifts and to use them to transform our world.
Hear our prayers this day for those whom we love.
For those who are sick, we pray for healing.
For those who mourn, we pray for comfort.
For those whose lives are plagued by doubt, fear, anger, hatred and violence, send your Holy Spirit to help them find a way out of darkness and into your light.
We pray for those among us who struggle with depression, addiction, and mental illness, that they might know your healing love.
Hear us now as we turn our hearts to you in the sacred silence of this Meetinghouse.
Amen.