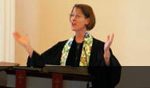 April 2, 2017
"Breathe on me, breath of God" – April 2 sermon
We are so close to Jerusalem.
Today's New Testament reading brings us to the depth of despair as Jesus experiences the death of his friend Lazarus.
This lengthy passage provides a glimpse into the absolute humanity as well as the absolute divinity of Jesus Christ.
Only John's gospel includes this miracle story.
Listen now for the message of our faith delivered in the gospel of John 11: 1-45.
Here ends the reading of God's holy word. May He add to our hearing and understanding, His blessing. Amen.
Please pray with me.
God of amazing compassion, lover of our wayward race, you bring to birth a pilgrim people, and call us to be a blessing for ourselves and all the world.
We pray for grace to take your generous gift and step with courage on this holy path, confident in the radiant life that is your plan for us, made known and given in Jesus Christ our Lord.
May the words of my mouth and the meditations of my heart be acceptable to you, O Lord, my rock and my redeemer. Amen.
Sermon
Fourteen years ago, just a few weeks before Easter, I ventured into the Bridgewater Congregational Church for the first time.
I had made a decision to leave the Catholic Church and I felt that I needed to make my move before Easter.
A friend of mine promised she would meet me 'on the front steps' so that I wouldn't be alone.
I can remember almost every detail of that day – what the church looked like, smelled like, felt like.
But the thing I remember most clearly and with so much emotion that it almost makes me cry, is the scripture readings that day.
They were the readings we heard this morning.
Ezekiel's dry bones and Lazarus' resurrection spoke directly to my own yearning soul.
I was searching for new life and I found it in those scripture passages.
The beauty of those lifeless bones dancing with joy coupled with Mary's proclamation of Jesus as the messiah brought the Christian message home.
All of a sudden it all made sense.
I'm sure I had heard these readings before, but on that particular day, I heard them anew.
Perhaps this is why preparing for Holy Week and Easter is so important to me.
For me, Lent and Easter are the most deeply felt seasons of the liturgical year.
It is when I feel closest to God, perhaps because so much of what we do during this time of year is soul nourishing.
It is during Lent that we take the time to examine ourselves, to delve deeply into our faith and to prepare to comprehend the resurrection story, which is beyond comprehension.
It is in this holy season that we embrace the wonder and awe of our belief because it is the time that we transcend the historical storytelling and celebrate the impossible.
Dry bones? Walking dead men? Jesus weeping? Ressurection?
How can these things be? They simply are.
For those of us who have the good fortune of living where the seasons change this is also the time of year where signs of rebirth and renewal abound.
The daffodils are pushing up through the damp earth and the bird song has markedly changed tune.
Through the somewhat dismal days of March we see the light of spring emerging – we experience a sense of hope.
Last Sunday Donna Schaper spent two enriching hours with us.
I am genuinely sorry for those of you who were unable to be there.
I know that I came away both inspired and transformed.
Donna characterized Christians as people of hope…people who can face unbearable hardship and squeeze out a glimmer of blessing to sustain them.
She spoke of bringing a positive attitude to all things, even death – not a naïve, idealistic perspective, but a belief in God's Holy Spirit.
She is a person of such spirit and it was engaging.
I believe that our readings this morning are meant to send this same message of hope.
One can easily see the hope in Ezekiel's life-giving story, but do you also see it in John's account of Lazarus being raised from the dead?
We certainly don't want everyone dead to suddenly come to life and start walking around – sounds like a good tv show – but we do want to believe that the breath of God can reinvigorate us and bring new life when we feel hopeless or forlorn.
Breathe on me breath of God; fill me with life anew; that I may love what thou dost love, and do what thou wouldst do.
What lies in your valley of dry bones?
What is it in you that might be crying out for renewal?
This is what Lent is for.
It is a time to look at ourselves and look at our world and ask, 'Where do we need God's breath?'
Or more importantly, 'Where might I be the breath of God?'
Where are the places that you might breath new life into old bones or call a beloved friend from their tomb?
Already this morning, our new covenant partners have breathed a bit of new life into our congregation by committing themselves to the journey of faith.
Welcome!
We have gathered at this communion table and shared a common meal, thus breathing life into our sense of community.
Where else might God's breath be needed?
The spirit of renewal is not reserved for dire circumstances.
One does not need to be in the valley of dry bones or the tomb to call on God's holy spirit.
Those people, places and things that we love can be renewed.
Relationships can have new life breathed into them over and over again.
This is the beautiful thing about God's holy spirit – it is ongoing, ever present in our lives.
There is nothing immune from the possibility of wonder.
God can take the smallest thing and make it flourish.
Scripture is full of examples of God choosing an unlikely vessel for God's grace.
As we wind down our Lenten season, I invite you to pause, and look around you.
Are you living in a valley of dry bones are you dancing in the presence of God?
Rejoice!
Easter is coming.
Let us pray.
Gracious, holy, loving God we turn to you this day seeking the grace to flourish.
Help us to take a cue from the earth and renew our spirits with new energy.
Help us to see the beauty that surrounds us and to note the miracles that occur in our everyday lives.
O holy God, during these final days of the Lenten season, open our hearts to experience the wonder of your word and the miracle of your presence in our lives.
On this day we thank you God for sending us new covenant partners to breath your spirit into our church.
We thank you for bringing us to the communion table where our faith is renewed.
As Jesus turned to you when he encountered Lazarus' death, we also turn to you with prayers for those whom we love.
For those who are sick, we pray for healing.
For those who mourn, we pray for comfort.
For every part of your creation, human, animal and earth, we pray that the miracles of renewal and rebirth take hold.
O God, we yearn for resurrection in our lives.
Guide us through this holy season with faith and spirit.
Hear now, our silent prayers, known only to you….
Jesus taught his disciples to pray together in these words….Our Father