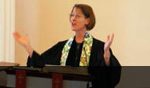 April 17, 2017
"Are You Contagious?" April 16 sermon
Today's New Testament reading, of course, tells the Easter story.
We turn to John's gospel to hear the account of Mary Magdalene discovering the empty tomb and then encountering the risen Christ.
Each one of the gospel writers tells the story a bit differently, focusing on their audience and theology.
In John's gospel the focus is always on the divinity of Jesus Christ, written for a late first-century Christian community that was undergoing painful separation from the Jewish society to which its members had belonged.
John's gospel was written to encourage its readers to believe that Jesus is the Messiah and the Son of God.
Hear now these words from the gospel of John 20:1-18.
Here ends the reading of God's holy word. May He add to our hearing and understanding, his blessing. Amen.
Please pray with me.
Resurrecting God, you conquered death and opened the gates of life everlasting.
In the power of the Holy Spirit, raise us with Christ that we, too, may proclaim healing and peace to the nations.
May the words of my mouth and the meditations of my heart be acceptable to you, O Lord, my rock and my redeemer. Amen.
Sermon
Jesus Christ is risen today – Alleluia!
And so, my friends, we gather.
We gather as Christians to celebrate the holiest day of our liturgical year.
We gather as a people, some feeling oppressed by our leaders and fearful of what the future holds.
We gather to sing praise and to sow seeds of hope.
We gather to remind one another that love triumphs over death – every time, every single time.
We gather to stand with Mary at the tomb, to weep at the state of affairs.
But most importantly, we gather as witnesses to the resurrection.
With Mary, we meet the risen Christ face-to-face and we are restored to hopefulness.
We are a people of hope.
We are a people born of love.
For God so loved the world that he gave his only Son, so that everyone who believes in him may not perish but may have eternal life.
We who believe will not perish.
The resurrection story is of course included in all four gospels but for the writer of John it was important to present Jesus as the messiah – the light of the world; the bread from heaven; living water; the vine of which we are the branches, the word.
I believe that we yearn for this message today as fervently as those first century Christians who struggled to make sense of their lives.
There is so much for us in this brief reading.
Mary and the two disciples of that first Easter morning teach us to look for signs of the extraordinary in the ordinary.
In love shared, in care given, with hope amid despair, joy in the place of grief, comes the dawning of belief.
One of the followers gets it. "Then the other disciple, who reached the tomb first, also went in, and he saw and believed."
Let that be us.
Begin to see the extraordinary—God in resurrection action—amid the ordinary.
Richard Rohr reminds us that "the Christian religion was made-to-order to grease the wheels of human consciousness toward love, nonviolence, earth care, and justice."
"Mature spirituality," he says, "serves as a conveyor belt for the evolution of human consciousness.
Immature religion stalls us at low levels of well-disguised egocentricity by fooling us into thinking we are more moral or holy than we really are."
What does this resurrection story mean to us today?
How do we interpret this message of new life, new beginnings, new perspectives?
I believe that you are here today to hear this hopeful message and I pray that it will take root and that you will realize that your Christian faith has answers to many of life's questions.
Right now, our world seems to be operating on a fear-based premise.
We are encouraged by our leaders and the media to be afraid of each other.
Demonizing 'the other' is the order of the day.
Too often, we fail to see God's image reflected in our neighbor's face.
She turned and saw Jesus standing there…but supposing him to be the gardener….
Even Mary, beloved disciple of Jesus, could not see beyond her expectations and almost missed the opportunity to encounter the risen Christ.
How many opportunities do we miss in our lives because our vision is too limited?
I recently came upon an interesting reflection by 13th century Franciscan theologian Bonaventure which "emphasized the incarnation as the love of God made visible in the world…Christ does not save us from creation; rather, Christ is the reason for creation…Christ is first in God's intention to love; love is the reason for creation."
God created us out of love and our reason for being is to spread that love in the world.
As Christians we must take responsibility for sharing the good news of Jesus Christ and demonstrating to others what God's love looks like.
It is the nature of love to flow from one being to another.
God's love flows into us and we in turn share that love with others.
A few weeks ago I used the definition of 'contagious' in a sermon.
As I was thinking about this Easter message the words kept coming back to me: The definition of contagious is it produces more of itself, and how much you've been exposed is the predictor of whether you're likely to catch it."
Our call as a Christian community is to counter the fear in our world with God's love.
One of the most familiar of Jesus' teachings is "Love your neighbor as yourself."
This is also incorporated into this church's mission statement.
Often we hear this message the wrong way, as "Love your neighbor as much as yourself." If you listen closely to Jesus however, there is no "as much as" in his admonition.
It's just "Love your neighbor as yourself"—as a continuation of your very own being.
It's a complete seeing that your neighbor is you.
There are not two individuals out there, one seeking to better herself at the price of the other, or to extend charity to the other; there are simply two cells of the one great Life.
Each of them is equally precious and necessary.
And as these two cells flow into one another, experiencing that one Life from the inside, they discover that "laying down one's life for another" is not a loss of one's self but a vast expansion of it—because the indivisible reality of love is the only True Self.
A life rooted in faith sees the interconnection between God, self and other and expresses the divine in all things mortal.
I hope you will take this Easter message out into the world and perhaps live with just a bit more compassion.
I hope that your visit here today will sow a contagious seed of Christ's love in you and motivate you to be a beacon of light and love in this troubled world.
I pray that your time here this morning will be transformative and that you will leave here having been infected with God's forgiveness, mercy and grace.
I'll close with a prayer by Jon Vandlar titled "How Are We to Respond?"
Lord, how are we to respond to this day?
When tombs do not stay sealed;
when dead and immobile bodies walk into the daylight;
and people who were gone are alive again;
anything is possible.
We have no frame of reference for this – no logical explanation
to make resurrection a normal everyday occurrence
And yet, that's exactly what it is now –
ever since You refused to remain a victim of the grave.
And suddenly we can see it – resurrection is everywhere!
You truly are alive – and Your life breaks out
in surprising ways and unexpected places
even in our own hearts and lives.
And so, Risen Jesus, Eternal and Abundant Life-Giver
We praise You, we celebrate You, we bow in awe
and we open our hearts again, that You, O King of Glory
may come in.
Let us pray.
We thank You, O God, for Your life, pulsing in creation revealed in Jesus
renewed in resurrection and available to us now.
Thank You for touching us again with this time of worship;
For joining our lives with Yours through Jesus;
And for renewing resurrection in our hearts through your Holy Spirit.
Filled with life, we now offer ourselves to be life-bringers in the world.
Touched by resurrection we pledge to resist death wherever we find it.
Filled with hope we embrace the promise of eternity,
and the call to make it known at every opportunity.
Through us may graves continue to be opened,
And may the dead continue to be awakened to new life.
Hear now our prayers for those whom we love.
For those who are sick, we pray for healing.
For those who mourn, we pray for comfort.
For your created beings throughout the world who spend this Easter day mired in poverty, violence or despair, we pray that your Holy Spirit will bring peace.
O God, we yearn for order in our world, for peace in our relationships for compassion in our communities.
Hear our prayer this day for peace in our hearts, in our homes and in your world.
We turn to you now in the sacred silence of this Meetinghouse with the prayers of our hearts.