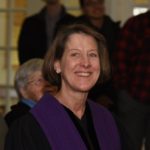 August 23, 2017
"Cast the first stone" ~ sermon delivered August 20, 2017
I have chosen a passage from John's gospel this morning, as we close out our summer series on who we are as a church.
I am hopeful that today's scripture lesson will touch your hearts and calm your fears as our country recovers from another week of hatred and violence.
As you listen, remember that the reason we gather in community, rather than worshipping alone in our garden, is to draw strength and courage from one another to bring our Christian sensibilities to the challenges of our day-to-day world.
Hear now a reading from the book of John 8:1-11.
Here ends the reading of God's holy word. May God add to our hearing and understanding God's blessings. Amen.
Please pray with me.
Lord Jesus, Son of God, your blessings know no boundaries that faith cannot cross.
Strengthen us to trust in your mercy, reach out for your healing and receive your reconciliation.
May the words of my mouth and the meditations of my heart be acceptable to you, O Lord, my rock and my redeemer. Amen.
Sermon
What was Jesus writing?
Was he stalling for time as he tried to figure out his response to the angry crowd?
Whatever he was doing, it resulted in one of the most profound teachings in scripture,
"Let anyone among you who is without sin be the first to throw a stone at her."
This has been a week of stone throwing as our country tries to recuperate from last week's violence in Virginia.
It was chilling to watch, on the United Church of Christ's website, an interview with Reverend Traci Blackmon, executive minister of UCC Justice and Witness Ministries.
Reverend Blackmon was describing the prayer service she had participated in Friday evening where clergy had gathered inside a church on the campus of the University of Virginia to pray for strength and courage to bear witness the following day against the hate and violence being advocated by the 'alt-right' more familiarly known as the Ku Klux Klan, the neo-Nazi party, and white supremacist.
The prayer gathering was interrupted by torch-carrying marchers outside chanting "blood and soil" the German Nazi refrain from almost a century ago.
As Rev. Blackmon was telling the story she was hurried off camera by a security guard as Saturday's marchers filled the square where she stood.
Traci Blackmon was one of the prominent speakers at the Synod gathering in Baltimore earlier this summer.
I had a brief opportunity to meet her while I was there.
It felt personal to watch her in the midst of the chaos.
We need to see and feel the events in Virginia as if they happened on Main Street in Salisbury.
As people of faith, we cannot pretend that nothing is wrong is our world.
What was Jesus writing?
Mother Theresa once said "If we have no peace, it is because we have forgotten that we belong to each other."
Our lives are intertwined.
The foundational premise of a beloved community is caring for one another and about one another.
In the beloved community when one part is hurting the others must respond.
There is no room for apathy or complacency in the beloved community.
We are each committed to working toward building God's kingdom on earth and that can only happen when every person is honored, heard and respected.
Earlier this week I went to the UCC Conference offices in Hartford to participate in a dialogue session regarding the church's response to racism and the recent demonstrations.
Conference Minister, Rev. Kent Siladi, along with conference staff led us in a thoughtful examination of our role in the current problems in our country.
T.J. Harper, the new Associate Minister for Racial Justice shared this 1967 quote from Martin Luther King, Jr.
"The church must be reminded that it is not the master or the servant of the state, but rather the conscience of the state. It must be the guide and the critic of the state, and never its tool. If the church does not recapture its prophetic zeal, it will become an irrelevant social club without moral or spiritual authority."
50 years ago.
The events of this past week remind us that we need moral leaders in our country.
We need people to look up to; people who strive to do what is right; people with strong values that keep them rooted to the path of righteousness.
Who are your heroes today?
To whom do you look for moral guidance?
What part do you play in standing up for justice?
I have spent a lot of time thinking about this over the past week.
I have come to understand that there are external and internal forces that guide us.
When we allow ourselves to be influenced or controlled by external pressures, such as following a crowd of hooded racists or picking up a stone to cast at an adulteress, we surrender a part of our soul.
The soul is the deep place within us where our connection to God is nurtured and maintained.
It is in our souls that we become the person God created us to be.
Thomas Merton calls this 'our true self.'
He says: The true self is our whole self before God, the self we were created to become, our self in Christ. It is the self that breathes, that stands and sits. It is the self that is. The true self, being simple like God, can be realized only in the mode of simple, contemplative awareness.
What was Jesus writing?
Merton goes on to caution that "when the relative identity of the ego is taken to be my deepest and only identity, when I am thought to be nothing but the sum total of all my relationships, when I cling to this self and make it the center around which and for which I live, I then make my empirical identity into the false self. My own self then becomes the obstacle to realizing my true self."
Our egos are completely subject to external forces – what other people think and what other people say influence how we act.
Our souls are guided by internal forces; knowledge of what is right, faith in God's promise, trust in the Spirit's presence – these are the forces we need to heed when we are making decisions.
I came upon this Benedictine blessing this week – it is my prayer for you today:
May God bless you with a restless discomfort about easy answers, half-truths and superficial relationships, so that you may seek truth boldly and love deep within your heart.
May God bless you with a holy anger toward injustice, oppression, and exploitation of people, so that you may tirelessly work for justice, freedom, and peace among all people.
May God bless you with the gift of tears to shed with those who suffer from pain, rejection, starvation, or the loss of all that they cherish, so that you may reach out your hand to comfort them and transform their pain into joy.
May God bless you with enough foolishness to believe that you really can make a difference in this world, so that you are able, with God's grace, to do what others claim cannot be done.
What was Jesus writing?
Let's spend some time talking about what is going on in our country and what our Christian witness might look like going forward.
Poet, philosopher Wendell Berry gifts us with this poetic masterpiece:
What if, in the high, restful sanctuary
That keeps the memory of Paradise,
We're followed by the drone of history
And greed's poisonous fumes still burn our eyes?
Disharmony recalls us to our work.
From Heavenly work of light and wind and leaf
We must turn back into the peopled dark
Of our unraveling century, the grief
Of waste, the agony of haste and noise.
It is a hard return from Sabbath rest
To lifework of the fields, yet we rejoice,
Returning, less condemned in being blessed
By vision of what human work can make:
A harmony between forest and field,
The world as it was given for love's sake
The world by love and loving work revealed
As given to our children and our Maker.
In that healed harmony the world is used
But not destroyed, the Giver and the taker
Joined, the taker blessed, in the unabused
Gift that nurtures and protects. The workday
And Sabbath live together in one place.
Though mortal, incomplete, that harmony
Is our one possibility of peace.
When field and woods agree, they make a rhyme
That stirs in distant memory the whole
First Sabbath's song that no largess of time
Or hope or sorrow wholly can recall.
But harmony of earth is Heaven-made,
Heaven-making, is promise and is prayer,
A little song to keep us unafraid,
An earthly music magnified in air.
Let us pray.
Gracious creator, peace-loving God, hear us this day as we lament the violence and strife in our communities and as we seek to be peacemakers and light bearers in the world.
O God, you sent your son, to help us understand the magnitude of your love.
You sent your Holy Spirit to guide us in our daily lives.
Help us to open our hearts to receive this love and guidance.
Help us, we pray, to be courageous in the face of violence;
Loving in the face of hatred;
Determined in the face of oppression.
O God, we yearn to see the world as you saw it when you declared that "it was good."
Hear now our prayers for those whom we love.
For those who are sick we pray for healing.
For those who mourn, we pray for comfort.
For those whose lives are threatened by the systems of injustice in our world we pray that we might use our privilege to save them.
We turn to you now, with the prayers of our hearts, seeking your presence, your guidance, your love….
Jesus taught them to pray in these words…Our Father…
Amen.