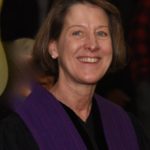 August 6, 2018
"Holy Trinity – Three in One" ~ sermon for August 5
Today's New Testament reading takes us to John's gospel.
In the preceding passage Jesus has fed the crowds with just a loaf and some fish; walked on water; stilled the stormy seas for his disciples and now tries to make sense of it all for his followers.
John's account of Jesus' life is always focused on the divinity of Jesus and today's passage gives us the 'bread of life' description.
Hear now a reading from the book of John 6:24-25.
Here ends the reading of God's holy word. May God add to our hearing and understanding, God's blessing. Amen.
Please pray with me.
Gracious God, from whom comes all the abundance of this earth, and who has given us the true bread from heaven, Jesus Christ, feed us again by your word of truth, that we may believe more deeply and trust more daringly, speaking the truth in love to our hurting world.
May the words of my mouth and the meditations of my heart be acceptable to you, O Lord, my rock and my redeemer. Amen.
Sermon
When I was meeting with Francis Tapon a few weeks ago he asked me 'what do the people in your church believe?'
I was intrigued by this question.
I wonder what your answer would be if someone inquired about your personal theology.
When we changed the doxology earlier this year a number of people expressed discomfort with the phrase 'Triune God.'
I was somewhat perplexed by this complaint because, for me, the Trinity: Father, Son and Holy Spirit or God, Jesus Christ and the Holy Spirit, are the foundation of my Christian faith.
Writer, Cynthia Bourgeault, suggests that following a 'law of three' in our lives will free us from the dualistic mindset that locks us into binary thinking.
Rather than adopting and either/or mentality, she suggests that we embrace the idea that in "every circumstance there are three forces involved: affirming, denying and reconciling.
The capacity to recognize and mediate this third force, reconciliation, belongs to what is called unitive consciousness – what she calls 'the mind of Christ.'
She draws on the Paschal Mystery as an example:
The Paschal Mystery is another example, with affirming as Jesus the human teacher of the path of love; denying as the crucifixion and the forces of hatred driving it; and reconciling as the principle of self-emptying, or kenotic love willingly engaged.
Bourgeault challenges us:
"Imagine how the energies of our planet would shift if we as Christians took seriously our obligation to work with the Law of Three as our fundamental spiritual praxis. Face to face with the vast challenges of our times—environmental, economic, political—we would avoid making judgments, set our sights higher than "winners and losers," and instead strive in all situations to align our minds and hearts with third force."
In the trinity we have three forces of divinity integrated into one.
We understand them as God, the creator of all that is; Jesus, the one who took human form to reconcile humanity to God; and the Holy Spirit, which sustains us in our efforts to know God.
These three are interdependent and interwoven.
Together, this triune God offers us multiple ways to recognize the divinity within each of us.
As I was reflecting on the concepts of a third force and the Trinity, I couldn't help but think of the divisions in our country.
What if rather than two sides to every issue, there were three?
What if the reconciling force exceeded the divisive force?
I wondered if the founders of this country had this in mind when they established three equal branches of the government.
The executive, legislative and judicial branches were meant to be complementary not adversarial – at least to be all striving for the same goal – a peaceable, productive, just country.
In his book, Healing the Heart of Democracy, Parker Palmer suggests five interlocking habits of the heart that are crucial to sustaining a democracy.
We must understand that we are all in this together. Ecologists, economists, ethicists, philosophers of science, and religious and secular leaders have all given voice to this theme. . . .
We must develop an appreciation of the value of "otherness.". . This can remind us of the ancient tradition of hospitality to the stranger.
We must cultivate the ability to hold tension in life-giving ways. . . When we allow tensions to expand our hearts, they can open us to new understandings of ourselves and our world, enhancing our lives and allowing us to enhance the lives of others. . . .
We must generate a sense of personal voice and agency. 
Insight and energy give rise to new life as we speak and act, expressing our version of truth while checking and correcting it against the truths of others. . . .
We must strengthen our capacity to create community
The steady companionship of two or three kindred spirits can kindle the courage we need to speak and act as citizens.
I find it enlightening to see the paralells between what it takes to sustain a democracy and what it takes to sustain a religious community. As we explore what it means to be people of faith in an increasingly secular world, I wonder what we might do to let our triune faith inform our lives.
Let's have a conversation about your personal theology and how you apply it to your everyday life.
Let us pray.
Gracious, loving, triune God we turn to you this day seeking your guidance on how to build your kingdom here on earth. Help us, we pray, to allow your Holy Spirit to enlighten us as to the many ways we might bring your love and peace to the world. Grant us the grace to be leaders in the quest for peace and justice in the world. Remind us that you have shown us the way and all we must do is follow you.
Hear our prayers this day for those whom we love.
For those who are sick, we pray for healing.
For those who mourn, we pray for comfort.
For those lost in a world of binary construction, send your Spirit to break down barriers and lead us all to a place of reconciliation.
On this communion Sunday we yearn for your bread of life to sustain and nourish us.
Hear now our silent prayers as we turn our hearts to you.
Jesus taught his followers to pray to God in these words…