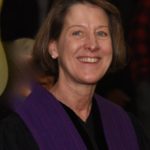 May 15, 2018
"Inspired by Miracles" ~ Sermon for May 13
Please pray with me.
Gracious God, in the resurrection of your Son Jesus Christ, you have given us eternal life and glorified your name in all the world.
Refresh our souls with the living streams of your truth, that in our unity, your joy may be complete.
May the words of my mouth and the meditations of my heart be acceptable to you, O Lord, my rock and my redeemer. Amen.
Sermon
The gospel this morning, which Erin just read for us, gives the grand conclusion of the Book of Luke.
The disciples who have been in the company of Jesus for the past three years, listening, learning, and trying to understand who Jesus is are now witness to the magnificent miracle of the resurrected Jesus ascending into heaven to take his place at God's right hand.
This group of followers has seen Jesus' miracles before: healing the sick, exorcising demons, withering a fig tree, knowing what they are doing and saying, rising from the dead, appearing in locked rooms…but now, this miracle is beyond their imaginations.
This is something that they have never witnessed before.
This is God's power and God's glory put on display for all to see.
As we draw near to the end of the "God's Story" part of the Church Year, this important feast of Ascension offers some significant truths on which to build our life of following Christ.
One author noted the challenge of holding this event in the context of Jesus' whole life and message – making it impossible to view God as somehow "separate" from creation.
He argues "The image of human flesh and blood being integrated into the Godhead should leave us with the awesome realization that God is more inextricably immersed and connected with creation than we could ever have dreamed! If the Ascension has led us to faith in a disembodied, removed God who is watching us "from a distance", we have missed its message."
The Ascension does not mean that heaven is "up," hell is "down," and God is looking down on us from some far removed place.
Rather, the Ascension offers us a number of crucial truths that, in this world of injustice and inequality, we desperately need to reclaim.
First the fact that Jesus did not die, but was seen to "return" to God physically is a continuation of the story of incarnation.
God embraces the human body –inhabits it, and glorifies it, making humanity part of God!
This means that the needs of the body – for food, clean water, sanitation, shelter, and loving, intimate touch – are all part of the Gospel and are included in God's gift of salvation.
Secondly, the Ascension declares as clearly and loudly as it can that Jesus, and not Caesar (nor any other Empire, government, system, or social hierarchy) is Lord over all.
This means that our ultimate allegiance must be to Christ first, and that our lives are called to be a reflection of Christ's reign in the midst of the other forces and 'lords' that influence and control our world.
Finally, the Ascension always comes with the promise of the Holy Spirit's power which tells us that God is not absent and removed from us, but continues to be completely immersed in the world and in the lives of human beings.
The gift of the Spirit also assures us of God's resources and God's inspiration and God's guidance to strengthen and enable us as we seek to live as faithful followers of Christ.
The Ascension reminds us that God remains involved with human beings, that God's presence continues to be available to us, and that we know that everything that makes us human has been embraced and welcomed into God.
I picture that group of disciples standing on the mountainside, staring at the empty sky, trying to make sense of what they've just experienced.
They are afraid to look away – there might be something else.
They are reluctant to turn to their friends to ask 'did you see that?'
What if the others didn't see it?
They are both individually and communally in complete awe.
Luke says the experience left the disciples feeling great joy and a sense of being blessed.
They returned to the temple to give thanks.
This is a great way to be.
In every organization, every community, every family, every church, power has the potential to turn into a struggle.
In every human collective there is the potential for abuse, exploitation and exclusion.
But, the Ascension calls us to a different way of being.
It begins with a personal recognition of the value that Jesus places on every human being – including ourselves.
That Christ would take on our flesh, live our life, die our death, and then rise and take the place of authority over our human world, indicates the extent to which Christ is concerned to change the human system in which only some are valued, and others count for nothing.
Celebrating the Ascension calls us to work, in our own small corner of the world, to embody the teachings of Christ – the justice, equality, compassion, and inclusion that Jesus demonstrated in his life, and that he expresses as Lord of all (not just Lord of some).
This means that we must strive for collaborative leadership in which power is shared and all have the capacity and the facility to participate if they so choose.
This means that we must strive to celebrate all people and their humanity, not just those who are "special" or "important" in some way.
This means that we must learn to value every part of our humanness and teach others to do the same – honoring the beauty and dignity in every person, and seeking to preserve the sacredness in the most intimate of human connections – hospitality, identity, and sexuality.
This means that, as church, the Ascension calls us to be a community of liberation not condemnation, of celebration not judgment, of this-worldly concern and compassion not other-worldly.
This is what I want for you Landon and all of our young people.
I want you to experience God's love and power in such a way that it leaves you breathless.
I want you to notice the miracles in your own life – your family, your community, the beautiful part of the world that we call home – and feel blessed.
I want you to have joy in your heart, because that is how God created you to be.
I want you to know that sometimes it is hard to hold to our Christian values, but always remember that you are part of a community that strives to do just that.
I saw a great quote this week:
"When God throws something your way, catch it!"
That is a lesson for all of us.
Whatever God gives you think of it as a gift.
Embrace it.
Find the good in every situation.
Look for the spark of the divine in every person.
You know, today is Mother's Day and I think that mothers are particularly skilled at doing this.
Each person here today has a mother, who for better or worse took you on and loved you as best she could.
Fathers, of course, do the same – but in a slightly different way.
When God threw us at our mother – she caught us.
She held us.
She helped us grow into the person we are today.
So today we celebrate Landon's confirmation, his affirmation of his baptismal vows; we celebrate Jesus' ascension into heaven; and we celebrate our mothers.
For these many life giving experiences, we give thanks to Almighty God.
Amen.
Let us pray.
Gracious, loving God, we thank you for the miracles in our lives.
We praise you for your power in the world.
We bow before you in awe.
Almighty God we ask that you guide and guard our young people that they will feel the power of your Holy Spirit within themselves.
As we witness Landon's confirmation we affirm our own baptismal vows and seek to commit our lives to you.
Grant us the grace we pray to be strong disciples, resisting the forces of our culture that would turn us away from you.
Hear our prayers this day for those whom we love.
For those who are sick, we pray for healing.
For those who mourn, we pray for comfort.
For those in the world who struggle with addiction, depression, or selfishness, we pray that your spirit will come alive in them.
On this Ascension Sunday we pray to remain in awe of your power.
Hear now our silent prayers as we turn our hearts to you.
…..Jesus taught them to pray in these words…. Our Father