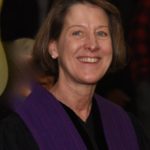 August 20, 2018
"What would you ask for?" ~ Sermon for August 19, 2018
Our new testament reading this morning continues in Paul's letter to the Ephesians.
Last week, Paul gave us 'rules for new life' and this week he continues with additional words of encouragement. Hear now a reading from Ephesians 5:15-20.
Here ends the reading of God's holy word. May God add to our hearing and understanding, God's blessing. Amen.
Please pray with me.
Living God, you are the giver of wisdom and true discernment, guiding those who seek after your ways to choose the good. Mercifully grant that your people, feasting on the true bread of heaven, may have eternal life in Jesus Christ our Lord. May the words of my mouth and the meditations of my heart be acceptable to you, O Lord, my rock and my redeemer. Amen.
Sermon
If God showed up in your dream and said, "Ask what I should give you," what would you reply?
Would your first thought be to ask for an understanding mind and the ability to discern between good and evil?
Most people remember King Solomon for his wisdom, a gift God gave him after he asked not for riches, wealth or long life but for help with governing the people wisely and well.
Of course, God was so pleased with his request that Solomon received all the other things, too.
As a young man, Solomon must have felt overwhelmed by his sudden power and weighty responsibilities.
His success gave him pause rather than moving him to exultation.
His father David, the greatest of Israel's kings, had placed him on the throne rather than his brother Adonijah, the "rightful" heir.
A number of enemies also had to be eliminated to establish Solomon's firm grip on the monarchy, and ultimately, a peaceful kingdom.
In fact, today's passage is a golden moment in an otherwise bloody and certainly instructive story of infidelity, violence, and sin.
Solomon could have just as easily asked for the elimination of his many enemies or the destruction of those communities which opposed his elevation to king.
But he didn't.
He asked for wisdom.
What is wisdom?
In the 13th century, Sufi poet Rumi quipped:
"Yesterday I was clever, so I wanted to change the world. Today I am wise, so I am changing myself."
Maya Angelou wrote "The desire to reach for the stars is ambitious. The desire to reach hearts is wise."
Proverbs 9:10 says, "The fear of the Lord is the beginning of wisdom, and knowledge of the Holy One is understanding" reminding us that honoring God is foundational to true wisdom; all other types of learning are worthless unless built upon a knowledge and awareness of God.
Knowledge and wisdom are often confused.
They are both recurring themes in the Bible, similar but not synonymous.
Knowledge is "information gained through experience, reasoning, or acquaintance" while wisdom is "the ability to discern or judge what is true, right, or lasting."
One commentator said wisdom is rooted not so much in what we think, but in how we live.
Mirabai Starr says, "Wisdom comes with being able to engage in inquiry with curiosity (with childlike wonderment as Jesus calls it) [in order] to see what really is, and to discover it's not something we have to defend ourselves against."
The choices we make, the actions we perform and the relationships we forge can all be foolish or wise.
And it's our deep connection with God in Christ that opens us to the wisdom of God, which empowers us to live wisely.
To answer the question I posed earlier: "What would you ask for" requires wisdom.
Our music this morning articulates several requests we might make of God:
Our opening hymn asks for guidance: Speak O Lord and I will hear thee, let thy will be done indeed
We asked for new life as we sang: Spirit of the living God, fall afresh on me;
Our middle hymn pleaded with God: Sweet Holy Spirit, sweet heavenly Dove, stay right here with us, filling us with your love;
Our closing hymn is five verses of requests for God to grant us the grace we need to live in this world.
At the end of the service we will hear Steven sing asking for peace.
So again, I ask: What would you ask for?
Let's talk about what we ask of God and what we expect in return.
Let's think about what wisdom means and who we know who is wise.
Let us pray.
Gracious, holy, powerful God hear our prayers and petitions this day as we turn to you seeking your love, mercy, guidance and grace.
Help us to discern those things which need your help from those things we might do on our own.
Help us to be true to ourselves in trusting you to help us discern your will.
O God, we pray for the wisdom of Solomon.
Help us to also yearn for Solomon's humility and faith.
Hear us this day as we pray for those whom we love.
For those who are sick, we pray for healing.
For those who mourn we pray for comfort.
For those who do not know how to seek your presence, we pray that your Holy Spirit might find its way into their hearts.
For all those among us who struggle with mental illness, addiction, violence and hate, we pray that our light might shine in their darkness.
O God we pray for peace, in our hearts, in our homes and in your world.
Hear now our silent prayers as we turn our hearts to you…
Jesus taught them to pray together in these words…Our Father.